Parts:Fila NRK frames
From Wikinline
Specifications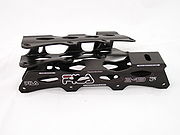 | | | |
| --- | --- | --- |
| Part | : | Fila NRK frames (2010) - Frames |
| Sizes | : | 243mm |
| Spacing | : | 165mm |
Overview
The original frames found on the Fila NRK and Fila NRK Road skates.
Details
Extruded aluminium 6000.
No bridges in the structure.
Height is 35mm which is Low Profile, meaning that the front wheels go above the frame's top.
Weight without axles is 199g.
The initial 2010 production has mount holes positioned further forward than most other 165mm mount frames, positioning the frame further back than usual on the skates.
Original Parts
Compatible Parts