Parts:GroundControl Featherlite 2 frames
From Wikinline
Specifications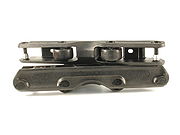 Overview
Extra light aggressive frames, the evolution of the Featherlite frames.
Details
Pro models : Brian Aragon (white), Franky Morales (black), Eric Bailey (charcoal), and Horn (red).
Max wheel size of 58mm outside and 55mm inside (source: Aggressivemall).
Exists in 3 sizes.
Size 1 for 6-7 US (11").
Size 2 for 8-11 US (11-3/8").
Size 3 for 12-15 US (11-17/8").
When sold separately, comes with all required hardware and anti-rockers.
Original Parts