Parts:K2 UFS frames
From Wikinline
Specifications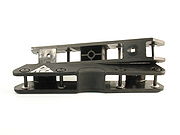 | | | |
| --- | --- | --- |
| Part | : | K2 UFS frames (2009-2010) - Frames |
| Spacing | : | UFS |
Overview
The aggressive (almost) UFS frames from K2.
Details
Not 100% UFS compatible : 166mm mount spacing and no 20mm diameter cavity.
The axles' tips slightly stick out, which makes them subject to be worn easily and hard to remove.
Frame height is 27mm, can be changed to 29mm by turning the spacers 180°.
Original Parts