Parts:Rollerblade Hot Rod frames
From Wikinline
Specifications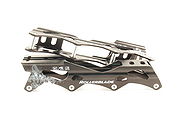 | | | |
| --- | --- | --- |
| Part | : | Rollerblade Hot Rod frames (2009-2010) - Frames |
| Sizes | : | 231mm/243mm |
| Spacing | : | 165mm |
Overview
The original frames found on the Twister 243. Appeared in 231mm in 2010 on the Twister 231.
Details
No internal bridges in the structure.
Exists in 2 different sizes, for maximum wheel sizes of 76mm and 80mm.
163mm spacing with extra holes, one 21mm forward in the front and one 19mm forward in the back.
Height of 43mm (front) and 54mm (back).
Boot base 40mm wide for 50mm (front) and 53mm wide for 80mm (very wide back).
Weight is 210g without axles.
Original Parts
Compatible Parts