Parts:Rollerblade Switch frames
From Wikinline
Specifications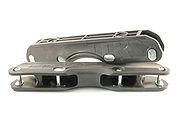 | | | |
| --- | --- | --- |
| Part | : | Rollerblade Switch frames (2008-2010) - Frames |
| Sizes | : | 256mm/286mm |
| Spacing | : | UFS |
Overview
The composite frames from some of the Rollerblade aggressive skates.
Details
Allows front and rear wheels up to 76mm on the original boots, slightly less on boots with a completely flat bottom.
Exists in 2 sizes, the size is written on the top of the frames.
Size 1 for skates sizes 21.5-28.5 measures 256mm.
Size 2 for skates sizes 29.0-30.5 measures 286mm.
Original Parts