Parts:Seba Cuff buttons
From Wikinline
Specifications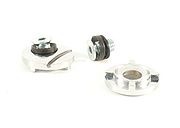 | | | |
| --- | --- | --- |
| Part | : | Seba Cuff buttons (2006-2011) - Bolts |
| Price | : | 5€ |
Overview
The cuff buttons and screws used on many Seba skates since the very first Seba High 06.
Details
Four positions (90° steps) to change cuff position.
Sold in pairs, one pair fits both sides of one cuff, two pairs are required for both skates.
Consists of a round metal button, a screw (typical skate Allen size) and two intermediate plastic parts to avoid loosening with vibrations.
Compatible Parts