Parts:Seba Frame bolts
From Wikinline
Specifications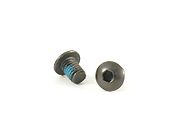 Overview
The original bolts used on all Seba skates which have integrated aluminium plates inside the boots.
Details
The hex size is a 3/16" which is close to 5mm, but not an exact match.
Seba skates and frames which come with these bolts usually include a hex tool with a red handle, which is marked 3/16".
The thread is 11mm long, but since 2010 there is a new version with a 15mm long thread.
The weight is 5.9g for the 11mm and 7.2g for the 15mm.