Parts:Seba Heel buckles
From Wikinline
Specifications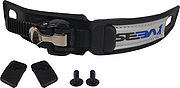 | | | |
| --- | --- | --- |
| Part | : | Seba Heel buckles (2006-2011) - Buckles |
| Sizes | : | XS, S, L, XL |
| Price | : | 16€ |
Overview
The heel buckle found on most Seba skates.
Details
Sizes for the FR skates : XS (34-37 EU), L (38-42) and XL (43-47).
Exist in at least 3 different colours.
Sold by pair because left and right buckles are different.
Micrometric buckle with replaceable dented part.
Screw mounted with length adjustment plastic parts.
The micrometic buckle has been modified mid-2010.
Original Parts