Parts:Seba Top buckles
From Wikinline
Specifications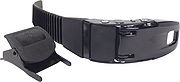 | | | |
| --- | --- | --- |
| Part | : | Seba Top buckles (2006-2011) - Buckles |
| Price | : | 12€ |
Overview
The top buckle found on many Seba skates. Other factory mounted models exist, but they are not available separately and can all be replaced by this one.
Details
Exist in a single size.
Perfectly symmetrical : A buckle fits both left and right skates indifferently.
Sold individually, not in pairs.
Exist in at least 2 colours : Black and black with grey tip.
Consists of two individual parts.
The tip is made of metal.
Requires 3 tiny mounting screws.
Factory mounted buckles are always screwed, never riveted, for easy replacement.
Compatible Parts