Parts:USD UFS Throne dual sole plates
From Wikinline
Specifications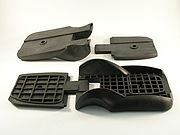 Overview
The original sole plates found on the USD UFS Throne skates.
Details
Incompatible with the Classic Throne sole plates.
Exists in 4 sizes : S for 38-40 EU, M for 41-42 EU, L for 43-44 EU and XL for 45-47 EU skates.
The EU size and L/R side is written on the plates.
Exist in many different colours.
Do not require any mounting hardware, they just need the frames to be mounted.