Parts:Xsjado Heel buckles
From Wikinline
Specifications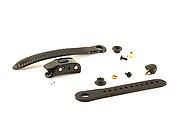 Overview
The heel buckles used on all of the Xsjado skates.
Details
Symmetrical.
Sold in pairs, with mounting bolts included.
Composed of two different parts, each attached to one side of the ankle pads.
The buckle has the release button mostly hidden so that it can't be pressed unintentionally.
Both parts can be easily adjusted to always have the ankle pad centred.