Parts:Rollerblade Alu UFS frames
From Wikinline
Specifications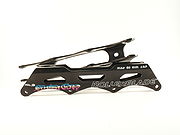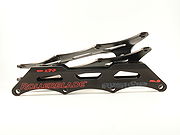 | | | |
| --- | --- | --- |
| Part | : | Rollerblade Alu UFS frames (2009-2010) - Frames |
| Sizes | : | 243mm/273mm |
| Spacing | : | UFS |
Overview
The frames from the Fusion X5 and Fusion X7 skates.
Details
Exists in 2 sizes, 243mm for 80mm wheels max and 273mm for 90mm wheels max.
The original text on the frames comes off very easily with acetone.
No bridges in the structure.
The weight without axles is 186g for the 243mm version and 219g for the 273mm version.
Original Parts
Compatible Parts