Rollerblade Fusion X7
From Wikinline
Specifications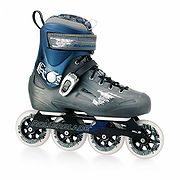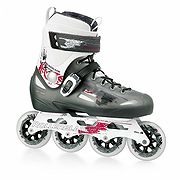 | | | |
| --- | --- | --- |
| Model | : | Rollerblade Fusion X7 (2009, 2010) - Freeride |
| Type | : | Hard Shell (laces + heel buckle + top strap) |
| | : | Aluminium (273mm) |
| | : | Spiral 90mm 84A (max 90mm) |
| | : | SG9 |
| | : | 8MM |
| | : | 23.0-32.0 MP |
| | : | 230€ |
Overview
After years of having only the Twister in their Urban line, Rollerblade decided to introduce in 2009 two new models sharing the same new shell as their aggressive skates, one with 80mm wheels (the Fusion X5) and the other with 90mm wheels, both available in two colours each. The skate stayed the same in 2010.
Details
Available in both Anthracite/Blue and Anthracite/Dark Red in 2009.
Only available in Dark Red in 2010.
The cuffs are riveted.
The heel buckle is screwed.
The top strap is riveted.
Brake pad in the box.
Original Parts
Compatible Parts
Parts Sizes
Shell (with its size specific shock absorber) and cuff sizes for all Solo based skates :
| Skate | Shell | Cuff |
| --- | --- | --- |
| 31.0-32.5 | 310-325 | 290-325 |
| 29.0-30.5 | 290-305 | 290-325 |
| 28.0-28.5 | 280-285 | 270-285 |
| 27.0-27.5 | 270-275 | 270-285 |
| 26.0-26.5 | 260-265 | 250-265 |
| 25.0-25.5 | 250-255 | 250-265 |
| 23.0-24.5 | 230-245 | 230-245 |