Parts:Rollerblade Solo sole plate bolts
From Wikinline
Specifications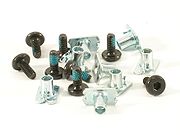 Overview
The original bolts used on the Rollerblade Solo and Rollerblade Fusion skates to mount the sole plates.
Details
The screw is 10mm long, the inside part is 8mm long.
The screw head requires a 3mm hex tool.
Two are required for each Fusion plate, so 8 in total for both skates.
Four are required for each Solo plate, so 16 in total for both skates.
The hole diameter for mounting is 5mm.
Compatible Parts