Parts:Rollerblade Solo sole plates
From Wikinline
Specifications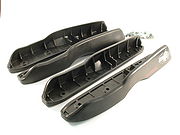 Overview
The original sole plates from the Rollerblade Solo skates.
Details
Exists in 4 sizes : 245 for 23.0-24.5, 265 for 25.0-26.5, 285 for 27.0-28.4 and 305 for 29.0-32.5 skates.
Exists in white and black.
The size is written on the inside, below the words SOLO GRIND.
When sold separately, comes with all required mounting hardware.
Original Parts