Parts:Rollerblade TRS buckles
From Wikinline
Specifications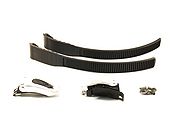 Overview
The buckles used on the TRS cuffs as well as on the Fusion X5, X7 and Solo aggressive skates as heel buckles.
Details
Symmetrical.
Sold in pairs, with both the plastic dented strap and buckle as well as rivets.
The buckle is attached with a single rivet, which can easily be replaced by a bolt.
The plastic strap is attached using a hole in the cuff, no rivets or bolts required.
Compatible Parts