Parts:Rollerblade TRS cuffs
From Wikinline
Specifications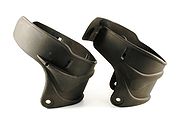 Overview
The cuffs found on many Rollerblade aggressive and urban skates since 2005.
Details
Also known as TRS Cuff 05.
Exist in 3 sizes : 245 for skates 21.5-24.5, 285 for skates 25.0-28.5 and 305 for skates 29.0-30.5.
When sold separately, sold without the buckles.
Early series did not come with bolts, later series do.
Original Parts
Compatible Parts