Parts:Seba Boot aluminium plates
From Wikinline
Specifications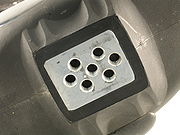 | | | |
| --- | --- | --- |
| Part | : | Seba Boot aluminium plates (2006-2011) - Bolts |
| Spacing | : | 165mm |
Overview
This is a non-removable part present on many Seba skates, which consists of two aluminium plates moulded into the boot, 165mm apart, with 7 mounting holes each.
Details
The original mounting is always done using the centre-most hole.
Holes on a same front-back axis are 15mm apart.
Holes on the outer sides are 15mm apart.
Approximately 8mm thick.
Compatible Parts