Parts:Seba HDS
From Wikinline
Specifications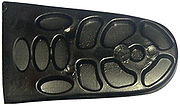 Overview
Seba Heel Damping System, replaceable shock absorber for Seba skates.
Details
Attach to the liners with velcro.
Exist in 4 hardnesses.
Original hardnesses were identifiable by colour : White is soft, light grey is mid-soft, dark grey is mid-hard and black is hard.
Some productions have all hardnesses only in black.
The Seba FR1 skates come with one pad factory mounted with double-sided velcro, and an optional pad to be added to the first.
Compatible Parts