Seba FR1
From Wikinline
Specifications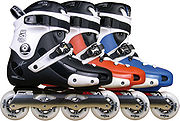 | | | |
| --- | --- | --- |
| Model | : | Seba FR1 (2007, 2008, 2009, 2010, 2011) - Freeride |
| Type | : | Hard Shell (laces + heel buckle + top buckle) |
| | : | Aluminium (243mm) |
| | : | Seba CW 80mm 85A (max 80mm) |
| | : | ILQ9 |
| | : | 8MM |
| | : | 34-47 EU |
| | : | 250€ |
Overview
Introduced in late 2006 as an alternative to the Rollerblade Twister, the FR1 is the first freeride skate in Seba's line-up.
Details
Exists in Orange and Blue Limited Editions.
Two aluminium plates with 7 frame mounting holes each built into the shell.
Replaceable protective lateral sliders.
Micrometric heel buckle, screw mounted with length adjustment parts.
Screw mounted buckles.
Screw mounted cuffs with asymmetrical parts for cuff height adjustment.
Original Parts
Compatible Parts
Other
Parts size to skate sizes table, the Shell Size is what can be read inside the shell :
| EU Size | Shell | Cuff | Strap |
| --- | --- | --- | --- |
| 45,46,47 | 12 | 9-12 | XL |
| 43,44 | 10 | 9-12 | XL |
| 42 | 8 | 5-8 | L |
| 40,41 | 7 | 5-8 | L |
| 38,39 | 6 | 5-8 | L |
| 36,37 | 4 | 2-4 | XS |