Parts:Tecnica Twister heel buckles
From Wikinline
Specifications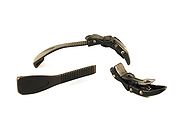 Overview
The heel buckles from the Tecnica Twister Plus and all of the Rollerblade Twister.
Details
The buckle itself is attached with two rivets.
The plastic strap is just clipped in with no rivets or bolts.
One downside is that the TRS cuffs can sometimes push on the opening mechanism when flexing forward.