Parts:USD Throne cuff bolts
From Wikinline
Specifications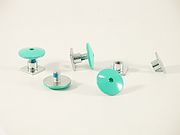 | | | |
| --- | --- | --- |
| Part | : | USD Throne cuff bolts (2009-2010) - Bolts |
| Reference | : | 700858 |
Overview
The cuff bolts from the USD Throne skates and others from The Conference.
Details
Exist in 5 different colours : Black, white, red, blue and turquoise.
Sold in packs of 4, for both skates since each cuff requires two.
The inner parts require a hole of at least 9mm diameter and 6mm deep in the skate's shell.
The inner part's square back is approximately 15x15mm.
The outer parts are 23mm in outer diameter and the threaded part is M6 and 9mm long.
Original Parts
Powerslide 23mm cuff bolts.
Compatible Parts