Parts:Rollerblade TRS cuff bolts
From Wikinline
Specifications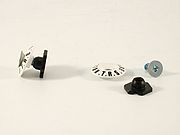 Overview
The original TRS cuffs bolts.
Details
Come by 4, 2 for each cuff.
Included with the recent TRS cuffs when sold separetly.
The original bolts from the Rollerblade Twister since 2006.
Do not come with the useful small tool to keep the inner part from turning when tightening.
Both the outer and inner parts require 9mm diameter holes, 5mm deep for the inner part and 3mm deep for the outer part.
The outer part is approximately 24mm in diameter.
Compatible Parts