Rollerblade Solo Estilo
From Wikinline
Specifications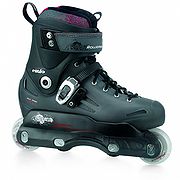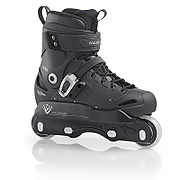 | | | |
| --- | --- | --- |
| Model | : | Rollerblade Solo Estilo (2009, 2010) - Aggressive |
| Type | : | Hard Shell (laces + heel buckle + top strap) |
| | : | Composite |
| | : | 2x72mm 84A + 2x47mm Antirockers |
| | : | SG9 |
| | : | 8MM |
| | : | 24.0-31.5 MP |
| | : | 280€ |
Overview
Identical to the Solo Tribe, but with screwed-on instead of riveted elements.
Details
Available only in smoke grey/anthracite in 2009.
Available only as a black/croco Limited Edition in 2010.
Two frame sizes based on the skate size.
New 2009 wide soul plates.
The cuffs are screwed.
The heel buckle is screwed.
The top strap is screwed.
Original Parts
Compatible Parts
Parts Sizes
Shell (with its size specific shock absorber) and cuff sizes for all Solo based skates :
| Skate | Shell | Cuff |
| --- | --- | --- |
| 31.0-32.5 | 310-325 | 290-325 |
| 29.0-30.5 | 290-305 | 290-325 |
| 28.0-28.5 | 280-285 | 270-285 |
| 27.0-27.5 | 270-275 | 270-285 |
| 26.0-26.5 | 260-265 | 250-265 |
| 25.0-25.5 | 250-255 | 250-265 |
| 23.0-24.5 | 230-245 | 230-245 |