Rollerblade Twister XV
From Wikinline
Specifications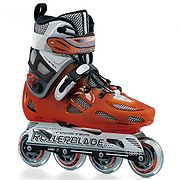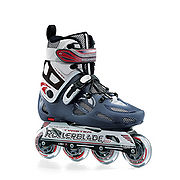 | | | |
| --- | --- | --- |
| Model | : | Rollerblade Twister XV (2005) - Freeride, Slalom |
| Type | : | Hard Shell (laces + heel buckle + top strap) |
| | : | Aluminium (243mm) |
| | : | Urban 76mm 80A (max 80mm) |
| | : | ABEC7 |
| | : | 8MM |
| | : | 23.0-32.0 MP |
| | : | 280€ |
Overview
This is the first real Rollerblade Twister, since the Rollerblade Twister Plus was just a re-branded Tecnica skate. The Twister XV went back to the orange original color from the the Twister was created by Tecnica, but extra ventilated. This, in addition to the plastic used, had the disadvantage of making the skate less stiff than before, which disappointed many skaters. The XV was the last Twister with the same original frames with the fragile speed-like 6mm ended axles... not having changed that was also disappointing.
Details
The only Twister to have a top velcro strap.
An early produced series was grey, at least some sales sample, but probably not any entire production.
The TRS cuffs were not included with the skates, though many skaters were adding them themselves.
Frame axles are not standard speed axles, they have a smaller 6mm vs. 7mm tip, which makes them more fragile.
Original Parts
Compatible Parts