Parts:Seba FR custom kit
From Wikinline
Specifications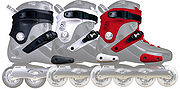 Overview
Packages consisting of the original white Seba FR1 parts in other colours, meant to customize any Seba FR.
Details
Exists in 6 colours : Black, Red, White, Yellow, Green and Purple.
Available in 3 sizes : S (34-37 EU), L (38-42 EU) and XL (43-47 EU).
The Yellow, Green and Purple colours were introduced in August 2010 and are not available in size S, only sizes L and XL.
Does not include top buckles nor any mounting bolts.
Original Parts