Seba FR2
From Wikinline
Specifications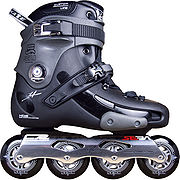 | | | |
| --- | --- | --- |
| Model | : | Seba FR2 (2007, 2008, 2009, 2010, 2011) - Freeride |
| Type | : | Hard Shell (laces + heel strap/buckle + top buckle) |
| | : | Aluminium (243mm) |
| | : | Seba Black 80mm 85A (max 80mm) |
| | : | ABEC5 |
| | : | 8MM |
| | : | 34-47 EU |
| | : | 200€ |
Overview
Introduced in late 2006, similar to the FR1 but without the shell aluminium plates and some simpler components.
Details
Replaceable protective lateral sliders.
Micrometric heel buckle, screw mounted with length adjustment parts (starting in 2008 or 2009, was a strap previously).
Screw mounted top buckle (simpler than on the FR1).
Screw mounted cuffs with asymmetrical parts for cuff height adjustment.
The wheels are simpler than on the FR1 even though they're also marked 85A.
The liners were also simpler than on the FR1 until at least 2008, then became identical.
Original Parts
Compatible Parts